Transportation
­­­­­­­­­­­­­­Faster access to routes. Faster access to success.
Whether the need is export or import, whether the destination is global or domestic, Columbia County offers the location, routes, and logistics for success. Companies benefit from strong support from the county to the state level including coordination of traffic and highway requirements, coordination, and support with Foreign Trade Zone applications, coordination with the Georgia Ports Authority for specific shipping and logistics requirements, and cross-industry connections, technology and assistance through Georgia's Center for Innovation for Logistics.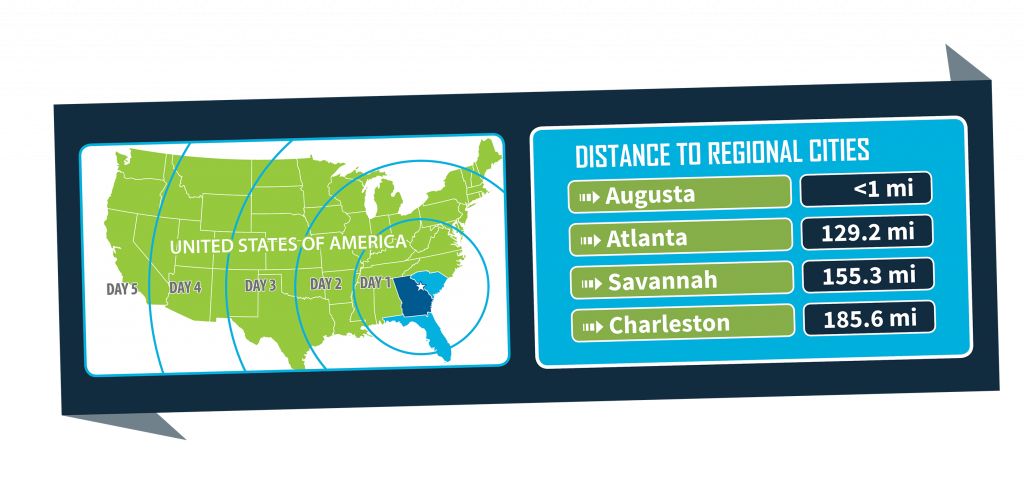 Highways
Immediate access to I-20, a major east-west interstate corridor, as well as the north-south U.S. 221, puts Columbia County only a two-hour drive from Southeastern hubs such as Atlanta, Savannah, Charleston, Charlotte, Greenville, and Spartanburg. Other major U.S. metros are within a day's drive.
Airports
Local connections include the general aviation facilities of Thomson-McDuffie County Airport, and the Augusta Regional Airport, where more than a half million passengers arrive and depart annually, and where Delta Connection carrier Atlantic Southeast Airlines and US Airways Express offer global access via convenient, non-stop service to Charlotte and Atlanta, two of the nation's largest air hub cities.
Only a two-hour drive from Columbia County, the Hartsfield-Jackson Atlanta Airport puts over 80% of U.S. consumers with a two-hour flight. One of the world's busiest passenger airports, Hartsfield-Jackson is also the nation's 10th largest airport for cargo and the 31st largest in the world, handling 98% of Georgia's annual air freight with 1.5 million square feet of on-terminal cargo handling capacity.
Ports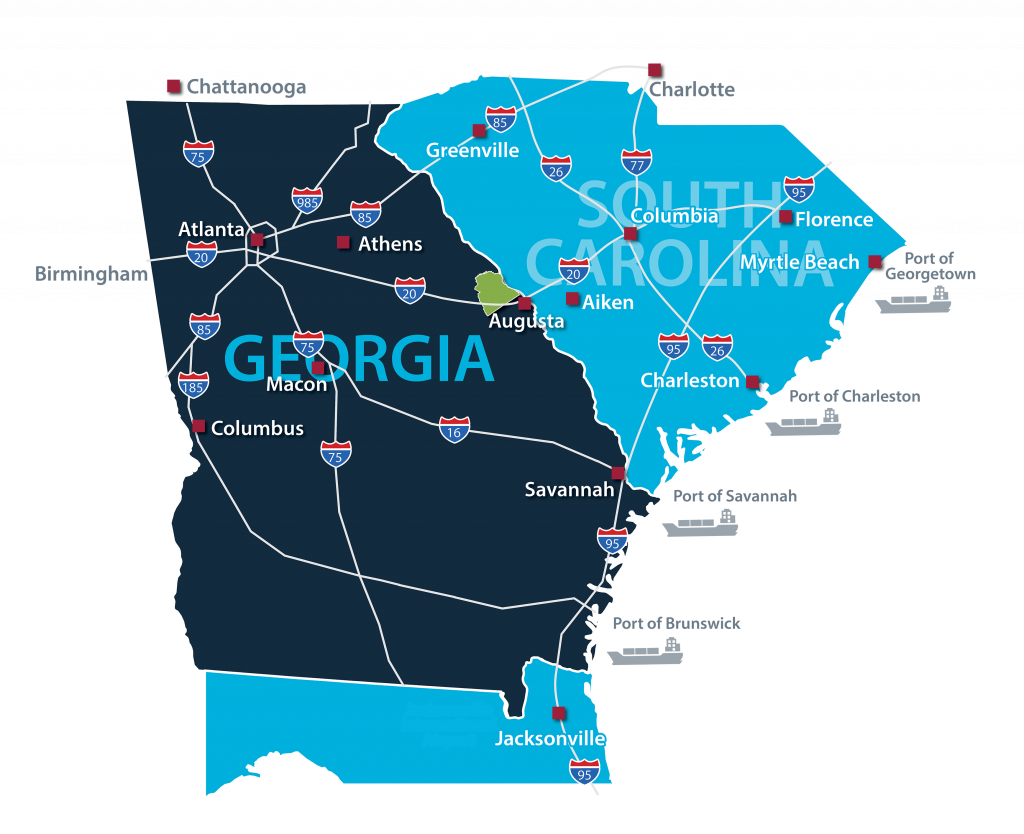 Columbia County's location offers equally easy access to two of the nation's fastest growing ports, the Port of Savannah and the Port of Charleston. Columbia County businesses—including global leaders like Club Car and John Deere—leverage this strategic access to reach markets all over the world, generating an approximate annual $60.2 million in export trade.
Home to two terminals, including the nation's fourth largest container-handling facilities, Port of Savannah is the second busiest container port for exports in the nation, offering nearly 10,000 feet of contiguous berth space. Ranked 8th in the nation by cargo value, the Port of Charleston hosts shipping service by more than 30 top global carriers. Both ports are implementing expansion/dredging projects to accommodate New Panamax vessels.
Rail
CSX Rail offers short-line service in several of Columbia County's prime industrial locations.  CSX offers close proximity to Augusta's switching yard and easy access to the Port of Savannah and Port of Charleston.